Plays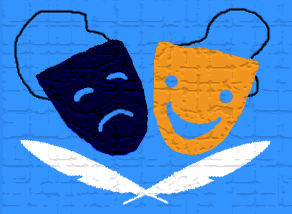 Link from here to see the individual scripts, or collections in the case of short works. Almost all scripts have had readings at The Playwrights Center, some have been produced, and all are looking for productions. I retain the copyright of course, but feel free to read or download.
---
FULL-LENGTH
ROBERT THE BRUCE is about the medieval Scottish king of that name who became the biggest hero in Scottish history. To give it a familiar reference, it takes place just after "Braveheart", but this is no mere sequel. First, I started my project before Mel Gibson, but guess who has more money. More importantly, I actually stuck to history. This is Bruce's life from the start of his rebellion against the English occupation until his death just after winning recognition. He went from fighting a guerrilla war with maybe 60 men to defeating one of the biggest armies ever seen at that time. He also had to wrestle with the guilt of killing his rival in a church, and bleeding two countries to gain his crown. The script includes program notes. And great chances for battle scenes.
NUREMBERG is about the Nazi war crimes trials following World War II. Were the Nazis just monsters, or were they normal people, even respectable people, like us? If you believe the first, you need to read this play lest it happen again. If you believe correctly--read it anyway, there is more good stuff in here like the old world order breaking down, questions about the rule of law, and the idea that first suggested the play to me, how do we gain the right to judge other people?
A DAY AND A NIGHT is a biographical play about Padraig Pearse and the Irish Easter Rebellion. The play simultaneously shows his final days in prison, before his execution, and his life from childhood to surrendering at the end of the rebellion. Is one man's fanatic another man's idealist? Was he right to try to bring Ireland into rebellion before it was ready? Would it have ever been ready? It's about fanaticism, idealism, courage, sacrifice, and the power of myth.
---
ONE-ACTS
THE CHILDRENS' CRUSADE: This one is under ten minutes, but it's dramatic and doesn't fit in with the sketches. Three GIs from World War II are being surveyed about their experiences with the replacement system used in northern Europe.

BUILDING FENCES: This one is also under ten minutes, but likewise dramatic. The year is 1905. John is a farmer concerned with getting a fence built. His son tinkers with automobiles and has little interest in the farm. John remembers when he lost interest in his own father's farm, and the awful result.

THE SHORT DIVINE COMEDY is a comic nativity play yet, I think, a reverent one. Part of it was produced by Dudley Rigg's Brave New Workshop in Minneapolis.

THE CAR is a satire/absurdist piece about the American economic system. I wrote it during the Reagan era, but the advantage of being abstract and deconstructionist is that it stays relevant.

OISÍN IN TÍR NA NÓG is based on ancient Irish legends of the hero Oisín, who spent 300 years in Tír na nÓg (Land of Youth, sort of an Irish Valhalla) and returned to Ireland where he turned old and told his story to St.Patrick before dying.

COLLECTED SKETCHES is a collection of my sketches and ten-minute plays. The file starts with a description of each script.

CAPTAIN GRANT MARSH is a monologue written under commssion for the State Historical Society of North Dakota. He was a prominent steamboat captain and pilot on the Upper Missouri who played a crucial role in exploring the Yellowstone River and during the Battle of Little Big Horn. And yes, I'm open to more commissions.

THE FASHION OF THE COUNTRY is another commission piece, this one by the Minnesota Historical Society. Henry Sibley and his half-Indian daughter, Helen, are watching Minnesota change as settlers pour in and replace the fur trade and Indian cultures. As their ways became less acceptable, Helen was raised apart from her father, whose fortunes have also been changed.