Fort Snelling and Living History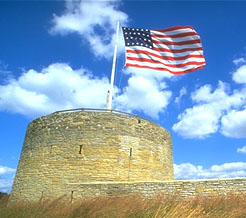 Historic Fort Snelling is a restored army post from the 1820's. Fort Snelling commanded a strategic position at the junction of the Mississippi and Minnesota rivers at a time when the rivers were the highways and the fur trade was at its height. Though it's now in the middle of the Twin Cities, it was then the most isolated post in the army, being literally months away from supplies, iced in during the winter, and hundreds of miles out from settlement in what was still Indian land. During the 1960's and 70's, the walls and demolished buildings were reconstructed while the standing buildings were restored. Today Historic Fort Snelling is one of the premier historic sites in the country and a place I happily called my workplace for the ten years.

The staff portray the garrison and asundry civilians around the post in the year 1827. There's no great event going on. Rather, we show what life was like everyday: the routine of army life, the adjustment to being far from home, the sense of isolation, and the thin margin of survival. They came from cities and eastern woodlands, and joined the army in expectation of being soldiers. They found themselves on a prairie, with rivers instead of roads, and they were farmers more than soldiers. Visitors to the fort get to interact with us in our roles as soldiers, laundresses, officers, mechanics (tradesmen), fur traders, boatmen and a bunch more besides. They get to ask us anything about "our" lives, watch our work, maybe even try our work, ask about the fort's role in other times (it is still a Reserve and National Guard base), or any history related question that comes to mind. And you thought your CD-Rom game was interactive! We achieved "interactivity" 27 years ago! I can often be found in our workshops doing the work of early 19th century woodworkers and blacksmiths, leading some soldiers in our drill demonstrations, being a gentleman in Col. Snelling's home with too little real work to do, portraying a voyageur (usually sans French accent)....pretty much I do everything. You can jump over to Fort Snelling's own website, and link from there to the rest of the sites of the Minnesota Historical Society. Fort Snelling is open May 1 to October 31, 10:00-5:00 Monday-Saturday, and Noon-5 Sunday. If you travel by freeway instead of river, it's located where state highways 5 and 55 come together. Guided tours are available for schools, as well as a more extensive "early 19th century school day" program. The Fort phone number is (612)726-1171. Yes, that's a much younger me as the fort sutler in the photo below. I didn't portray the sutler often, but that was day a photographer from Minnesota Monthly came by.